Events
CDISC Europe Interchange
April 25, 2016 - April 29, 2016 / Vienna, Austria
Managed Access Programs
April 26, 2016 - April 27, 2016 / Munich, Germany
eSource Data in Clinical Investigations
May 02, 2016 - May 03, 2016 / Philadelphia, PA
Clinical Trial Innovation Summit
May 09, 2016 - May 10, 2016 / Boston, MA
Publication & Clinical Trial Disclosure
June 22, 2016 - June 23, 2016 / Barcelona, Spain

E-Books
Cardiac Safety Assessment Update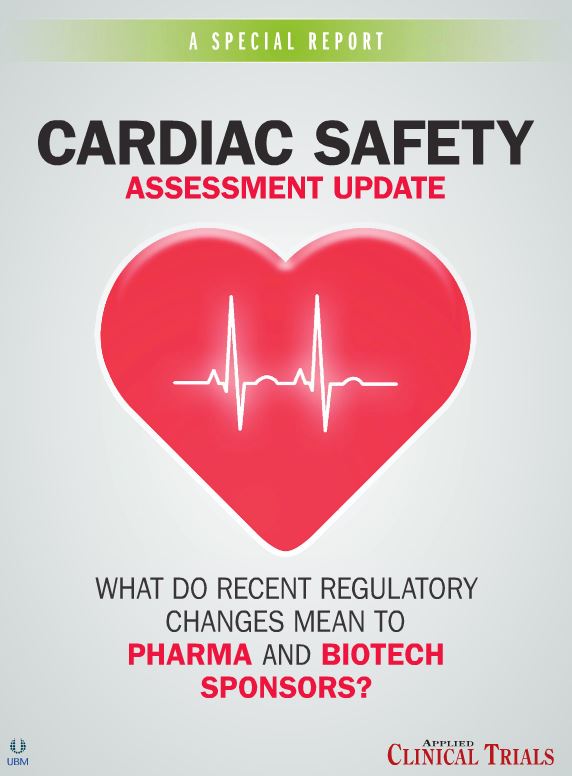 This special report offers an article regarding current FDA thinking and future direction with these assessments. ERT--a cloud platform solutions provider that captures quality efficacy and safety endpoints in centralized Cardiac Safety, Respiratory, Suicide Risk Assessment, and Clinical Outcome Assessments—offers expert view on this regulatory change.
Clinical trials have increased in number and complexity for numerous reasons—global trials, outsourcing, protocol requirements, and multiple regulatory issues. Factor this with the increased need to bring efficiencies and lower prices to the clinical trial process, and the need to stay on top of trials only becomes more crucial. This eBook will include articles on logistics of clinical trials supplies, negotiating with investigative sites, use of e-signatures and more.
Risk-Based Monitoring in Clinical Trials, 4th Edition
Applied Clinical Trials presents the latest issues that have risen to prominence since RBM adoption grows. This edition presents a well-rounded look at RBM including articles that describe current RBM trends; a survey of European CRAs, which shows the difficulties among sites and monitors with RBM; a comprehensive look at how sponsors and CROs can support their employees in the RBM transition, and closes with a case study on Novartis' use of adaptive monitoring.
Planning Successful Clinical Trials in the APAC Region
Catalent Clinical Supply Services enlisted Applied Clinical Trials to develop an eBook that includes the best articles on conducting clinical trials in the Asia-Pacific region. Those articles include: the growing data management services market in China; navigating clinical supply challenges in Asia-Pac regional studies; trends in clinical trials placement, including South Korea as a destination for early phase trials and a look at the future of biosimilars development and steps to develop a logical sourcing strategy. SPONSORED